Welcome
Computer Engineering is a significant
branch of engineering that combines and integrates many fields of Computer Science and Electronic Engineering that are required for the hardware and software implementations (solving problems and designing hardware-and-software interfaces)

.

Computer Engineering also deals with designing, developing and operating computer systems while concentrating on digital hardware devices and computers, and the software that controls them. The teaching staff and students in this department can take place at every point where a computer exists and/or the problem solving is a need

.
| Academic Calendar | Curriculum |
| --- | --- |
| Course Contents | Weekly Course Schedule |
| Log In | Microsoft Teams | Student Information System (SIS) |
Students of the Department of Computer Engineering will be able to work in the sector as a database specialist, application programmer, web designer, web/mobile programmer, network specialist, software developer or project coordinator or as a freelancer by taking courses such as database management systems, programming languages, web/mobile programming, data communication and computer networks, project design, software engineering and software project management in the curriculum.
Our students will also have a chance to specialize in different career areas by conducting projects in the courses such as computer graphics, image processing, data mining, artificial intelligence, artificial neural networks, machine learning and data science, and take various elective courses based on their areas of interest.
| Introduction | Useful Links |
| --- | --- |
| Information Package - Proliz | Information Package - 3fCampus |
We aim to train successful Computer Engineers who want to take part in the sector and/or progress academically with our competent teaching staff who have focused on teaching and researching with the academy and field experience. Apart from the senior design project, we plan to prepare our students for professional life last year with profession seminars and career preparation study.
Announcements
Currently there are no announcements.
See All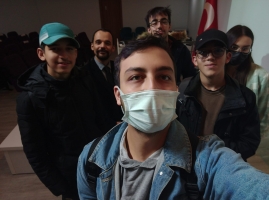 We held a face-to-face meeting with our valuable learners at the preparatory school.
See All
There are no event available.
See All